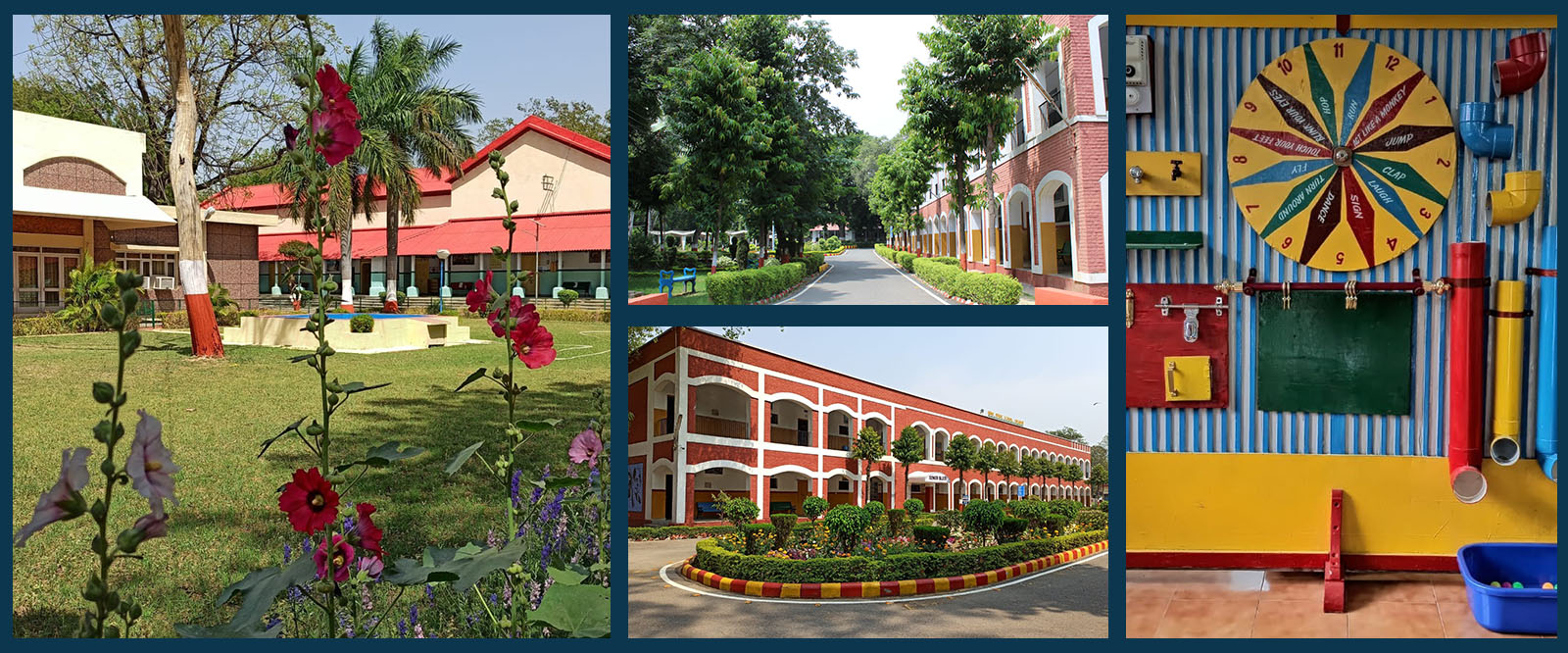 The School complex comprises:-
Administrative block
Three Academic blocks – Senior, Middle & Primary incl Porta Cabins.
Four Science Labs (Phy, Chem, Bio and Biotech).
One Science Activity Room/ Home Science Lab
Maths Lab.
Social Science Room
Two well stocked air-conditioned Libraries with nearly 15625 Titles
Four modern Computer Labs (incl TCL).
One AI/AR/VR Lab
There are two Teacher Resource Centers
Visual and Performing Arts blocks.
Sports – Two huge football playgrounds, Volley Ball Synthetic Court, Badminton Court, Indoor Games (Chess, Carrom & TT), Basketball Court.
Gymnasium (Indoor & Outdoor).
Children's Park.
Herbal Garden.
Air-conditioned Multi-Purpose Hall.
Inclusive Education Room.
Infirmary
Career Counselling Cell.
Cafeteria
Capt Manoj Pandey, PVC, WWW, Boys' Hostel.
Swati Girls' Hostel.
Staff Accommodation.
IT Infrastructure including TAL.
Computer studies form an integral part of the school curriculum. The school has a separate Computer Science Department. Details are as under :-
There are four fully air-conditioned Computer Labs, each consisting of Core i3/i5 computers, Core 2 Duo/TCL (N Computing) and One AI/AR/VR Lab.
All systems are connected with LAN.
There are 62 Smart Class Rooms having TAL facility with Smart Board, Projectors and Desktop Computers/Laptops. Besides, the Physics Lab is also equipped with Smart Classroom Facility.
There are 13 Smart Class Rooms having TAL facility with Projectors and Laptops.
Networking has been completed for 75 classrooms with Server. 07 new classrooms are still to be equipped.
Science Labs (Chemistry, Biology) are also equipped with technology & have Virtual Labs.
There are two Teacher Resource Centers
DIGICAMP is the School Management Software in which the entire school data including accounts, payroll, inventory, students data and staff data is being maintained.
Library
The School has two well stocked and extensively used libraries with a wide range of books that help the children rediscover the joy of reading. Salient features are as under :-
There are approximately 15625 titles.
A variety of encyclopedias, reference books and the latest historical and Science fiction, travel, adventure, biography and other books of children's interest are available.
The Library also has a good collection of educational CDs and DVDs.
The Senior Library contains a well equipped Teacher's Resource Centre with a wide collection of books.
There are Computers and Internet connection for constant upgrading of knowledge and evolution.
Magazine – 24 are subscribed.
News Papers - Hindi – 02, English – 05 are subscribed. In addition one weekly English Employment News is also subscribed.
Library is fully automated (e-.granthalaya) and books are issued using Smart Card.
E-library has been set up in Primary Block.
COPYRIGHT © 2022 Army Public School, Nehru Road, Lucknow. Designed by Softwarez Technocrew